Black Swan Arts Press Releases
Date published: 22 August 2018
Behind the Scenes at Black Swan Arts Open: Michael Eavis
Date: 19 October – 24 November
Location: Long Gallery
As submissions flood in for the prestigious Black Swan Arts Open – there are just a few weeks left to submit your entry – we're taking a closer look at the judges selecting work for this year's art competition.
The Black Swan Arts Open is an annual competition for original artworks by established practitioners and emerging artists. Now in its sixteenth year, it has established a reputation for attracting and selecting diverse and innovative pieces. The 100 successful entries will be displayed in the Long Gallery at Black Swan Arts in Frome from 19 October to 24 November.
The panel of judges responsible for shortlisting the artwork changes each year. This year's panel includes Steve Burden, 2016 winner of the Black Swan Arts Solo Show Prize; artist Sue Conrad; Debbie Hillyerd, director of education at Hauser & Wirth Somerset; and Johnny Messum, director and founder pioneer of Messums Wiltshire.
The final judge, Michael Eavis, is well-known to the people of Somerset and around the world as the creator of Glastonbury Festival, which takes place on Worthy Farm in Pilton. It all began in the late 1960s, after watching the Bath Blues Festival with his girlfriend, Jean, in a field in Shepton Mallet. Michael decided to have a go himself and started booking bands to play on his family's dairy farm.
T. Rex headlined the first Glastonbury Festival in 1970 which was attended by around 1,500 fans. Since then artists as diverse as David Bowie, Van Morrison, The Smiths, Elvis Costello, Radiohead, Blur, Oasis, Coldplay and the Foo Fighters have headlined the event. However, music is only one of the activities on offer – the festival also embraces theatre, comedy, cabaret, poetry, art and design.
The Festival did not make a profit for several years, but when it did Michael began to look for good causes to support both locally and internationally. Nowadays, each festival aims to raise £2 million in aid of Greenpeace, Oxfam and WaterAid, as well as hundreds of causes closer to home. Within the local area, social housing is Michael's top priority.
Michael is delighted to be one of the judges for this year's Black Swan Arts Open. He said: 'It's great to know there are so many brilliant artists who live and work in the area, and I'm thrilled to be asked to join this year's judging panel.'
Find out more or submit an entry. There is a £12 charge for entries – this covers the admin costs of running the competition. The deadline for submissions is 14 September.
Date published: 26 August 2018
Volkhardt Müller – The Plantation
Date: 8 September–6 October 2018
Location: Long Gallery
A new exhibition by multimedia artist Volkhardt Müller, 'The Plantation', opens at Black Swan Arts in Frome in September.
Volkhardt Müller won the Black Swan Arts Open 2017 prize of a solo show in the Long Gallery for his single channel video work, English Themes After Claude Lorrain, which explored the landscapes of Devon in the context of the picturesque and the sublime.
The resulting exhibition, 'The Plantation', includes video, mixed media and print. Its subject matter is plantation forests which are cultivated to maximise a single crop, usually conifers. Unlike the self-sustaining pastoral idyll, the core principle of the plantation is perpetual intervention and repetition. He says: 'The plantation is needy and connected, fragile and overwhelming. Its effects are all around us, but it is not something we commonly choose to enjoy.'
Müller trained at the Stuttgart State Academy of Art and Design. As well as being a maker of objects, installations, print and video work, he works as a collaborator on performance and educational projects. He teaches, presents and facilitates creative work from participatory art in the community to university level.
Since moving to Britain, his long-standing interest in how landscapes are created and proliferated has focused on the ways in which rural and urban concepts are interconnected – how notions of landscape contribute to the construction of cultural identity and the enshrinement of societal status quo. He says: 'I like to know where I am located within my immediate environment and the people who shape it. At the same time, I am aware of how important it is to think further and beyond.'
The show runs from 8 September to 6 October, with a preview on Friday 7 September from 6–8pm – everyone is welcome to attend.
If you would like the chance to win a solo show at Black Swan Arts, the closing date for entries to this year's Open is 14 September. The successful entries will be displayed in the Long Gallery at Black Swan Arts from 19 October to 24 November.
Date published: 16 August 2018

Behind the Scenes at Black Swan Arts Open: In Conversation with Sue Conrad


Date: 19 October – 24 November
Location: Long Gallery
With the deadline for the prestigious Black Swan Arts Open competition now less than a month away – the Frome arts centre is accepting entries until 14 September – we're taking a closer look at the judges selecting work for this year's show. This week we're in conversation with artist Sue Conrad who is sponsoring a new prize this year for Works on Paper.
Sue Conrad studied constructed textiles at Goldsmiths College in the 1960s and later went on to complete a master's degree in multidisciplinary printmaking at the University of the West of England. She became a teacher and taught art and design in various schools and further education colleges in Glasgow, Somerset and Wiltshire.
In her own work, she is continuously experimenting with surface, texture, line and form to build layers of meaning. She deals with the themes of distance, decay, solitude and man's relationship to the natural world. She says, 'One does not merely look at these paintings, one voyages through them.'
Q. Did you always know that you wanted to be an artist?
A. I never imagined that I would ever be called an artist when I embarked on my creative journey. Embroidery was my passion, and I spent many hours on the intricate possibilities of stitch. These studies were purely technical and not in any way experimental.
Q. Where and what did you study?
A. The course at the Hammersmith School of Art covered all aspects of textiles, including ecclesiastical embroidery, hand and machine embroidery, fashion and basic design. I completed my intermediate certificate and then moved on to Goldsmiths.
The advanced diploma in art and design at Goldsmiths was new in conception and we were encouraged to move away from the traditional image of embroidery. Central to the course was the huge emphasis placed on drawing – the stitch was no longer a stitch, it was a mark.
Q. How was art practice changing then – it seems the rigid boundaries between art and craft were starting to change in the 1960s?
A. When I first started at Goldsmiths there was little, if any, opportunity to work across disciplines, such as with the fine art department, sculpture or ceramics. As embroidery became more popular and established as an art form, there were fine artists who wanted to come and experiment with those with embroidery skills. Likewise, we were encouraged to take part in life drawing studies within the fine art department.
Q. Who were your early influences, and who do you follow with interest now?
A. As part of my training at Goldsmiths, we spent a whole day a week drawing historical textiles at the Victoria and Albert Museum. This obviously guided my early work in stitch. More recently, I have been influenced by Keith Vaughan, Francis Bacon, David Hockney, Anselm Kiefer and Alberto Giacometti.
Q. What triggered the shift from your early interest in textiles to paint and print? Or does this still inform your current practice?
A. The shift came about as a result of my changing circumstances. For almost 30 years I was involved in running a business with my late husband and also teaching part time. This left little opportunity to further my own practice. However, circumstances changed again and I decided to return to art, graduating from Winchester School of Art with a degree in visual art – this time specialising in paint and print.
Following Winchester, I completed an MA in printmaking at the University of the West of England, so I am keenly aware of surface and texture; etching proved to be an inspiring and enriching experience. My previous training in stitch continues to inform my work: scratching, hiding, covering and scratching again reveals different layers. This is very similar to fabric collage when using fine fabrics and stitch.
Q. Your most recent work has been inspired by a series of voyages along the west coast of Norway – what was it about this maritime landscape that appealed to you and how has it manifested in your work?
A. Having found a quiet and private area on the boat, usually in the bar, I would work in my sketchbook, recording the impact on my senses of the power and beauty of this remote maritime landscape, and the sometimes turbulent activity of the weather and waves around it.
My sketchbook became more special as the voyage progressed, superimposing one image over another as we sailed through the fiords, observing different kinds of snow reflecting different light. Sometimes the view would be totally obliterated as we moved slowly through a veil of horizontal snow. I became more and more experimental and meditative, often reflecting upon the empty overwhelming land.
On my return to my studio, my imagination was empowered by memory and strong feelings, and images gradually emerged. The process is one of layering, scraping, erasing and re-establishing, while at the same time reaching into the well of memory and the subconscious.
Q. Your paintings are not literal representations but neither are they non-representative abstractions – how do you navigate the blurred line between realism and imagination, memory and feelings?
A. I find the process almost always starts with a 'chance' encounter of some kind. Whatever it is, it embeds itself in my psyche and starts resonating there, activating my imagination. I have no idea what it is about, where it is leading or why it is important to me.
How do I know what I am doing if I don't know what I am trying to do? I can only infer that at some level of my unconscious I do know, and I allow these deeper voices to surface before I interfere too much and bring the process to a premature conclusion.
I do not navigate the blurred line, the blurred line navigates me. In fact, I love the blurred line, the mist, the fog and the unknown. My paintings are memories of my journey through life and are the result of layering and changing surfaces and encounters.
Q. Some of your work has been inspired by Salisbury Plain. Why do you think so many artists are drawn to this landscape?
A. Living in Warminster and lecturing in Salisbury, I was immediately attracted to this wonderful local landscape. I spent many hours walking and drawing in the area, in particular on Scratchbury Hill, an Iron Age hill fort surrounded by other Bronze and Iron Age monuments. This area of chalk landscape was once the seabed, and there are opportunities awaiting the observer to discover shells or fragments of other siliceous organisms.
It is a landscape that represents more than just the visual aspects of the scenery. It is a rich historical record of material features and human activity dating back to times for which there are no written documents. The underlying geology and soil structure have determined the natural features, while the utilisation of the land by man has played a significant part in shaping this particular hill. Its beauty and diversity reflect changing patterns of population and settlement, trade and communications, and war.
I used mixed media in my renditions of this immediate landscape, often incorporating found materials including chalk and even cow pats. I am concerned about issues relating to man's insignificance in the landscape and of distance and separation. Strong feelings of solitude and silence are conveyed in my paintings, allowing the viewer to pause and contemplate issues relating to time, death and previous lives.
Q. What was Black Swan Arts Centre like when it first opened in 1986, and what artists were shown in the gallery?
A. I remember it as being rather small and cosy with a roaring log fire beneath the inglenook. The food was excellent, being run by Scoffs, if I remember rightly. They later moved to Bath.
The craft shop was a jewel in itself, selling bespoke items of jewellery, knitwear, glass and ceramics, all on a sale-or-return basis. Most of the exhibitors were local, some coming from as far afield as Bristol and Cardiff. To this day, I wear a special pair of silver earrings bought from the gift shop 28 years ago.
The main gallery attracted visitors from the whole of the South West – in particular, I remember two stunning shows, one by David Hockney and the other by Norman Ackroyd.
Q. How do you feel it is going now, over 30 years on?
A. My most recent experience was showing in 'Back to Blue' in the Round Tower – an exhibition about the local woollen industry – which was organised by Carolyn Griffiths. It was a well-received show with excellent footfall.
Q. What prompted you to sponsor a prize for a Work on Paper at this year's Open?
A. As I live and work in Frome, and I would like to help and support emerging artists, I decided to donate a prize of £1,000 for the next 10 years to the Black Swan Open. I limited it to works on paper in order to encourage practices that are important to me – mainly drawing, painting and printmaking. In particular, I hope to encourage observation, mark-making and freedom.
Date published: 20 June 2018
The Arborealists and Guests featuring Paul Nash
Date: 21 July – 2 September 2018
Location: Long Gallery & Round Tower Gallery
Trees in the limelight
A major new exhibition of trees in contemporary art at Black Swan Arts in Frome will feature work by forty-three Arborealists, some of international reputation, and six guest artists, as well as the painter Paul Nash.
The show will be the largest exhibition the group has staged to date. United by their subject, the Arborealists employ a diverse range of working practices: scale, medium, philosophy, style and technique. The results are, by turn, dramatic, contemplative, expressive, abstracted, hyperreal and surreal. The work demonstrates that trees still have a deep relevance in contemporary art and retain their power to move us all as a vital element in our landscape, lives and well-being. This exhibition reaches far beyond an arts audience.
In Britain, trees as a subject have inspired artists from Gainsborough and Constable through to the Pre-Raphaelites, the Neo-Romantics and the Ruralists. Piet Mondrian and Victor Pasmore used the tree as a device to create abstract art, and Paul Nash famously stated that he loved and worshipped trees and believed they were people – as beautifully demonstrated by his work in the show.
Trees provide a wonderfully versatile subject for artists, not only in terms of the rich variety of character, form, texture and colour, whether individually or collectively, but also in terms of the wealth of association they have come to embody over many centuries through myth, folklore, religious and symbolic significance.
The Arborealists were founded in 2013 by artist and curator Tim Craven following the seminal exhibition 'Under the Greenwood: Picturing the British Tree', staged at St Barbe Museum and Art Gallery, Lymington, in the heart of the New Forest. The Arborealists are a loose association of some sixty professional artists of diverse art practice who share the subject of the tree. There are no rules and no subscription. The group is far flung, with members from Wales and the borders to East Anglia, London and every southern county from Kent to Cornwall. Outposts include Yorkshire, France, Italy and Ireland. The group enjoys a national profile and have already staged nine acclaimed exhibitions in the UK and France, with many more planned for the future, including site-specific projects. They have also produced two illustrated publications to complement the exhibitions.
The guest artists include Ashleaf of London, Gary Cook, Jennifer Newbury, Emma Tuck, Clive Walley and Jim Whitty.
Full exhibition listing including preview dates
Associated events
Date published: 25 May 2018
Chemistry of Bronze
Date: 26 May – 15 July 2018
Location: Long  Gallery
A new exhibition at Black Swan Arts in Frome celebrates bronze sculpture and showcases the bronze-making process.
The 'Chemistry of Bronze' exhibition, which has been curated by Hans Borgonjon, features the work of five established UK artists producing bronze sculpture: Melanie Deegan creates delicate sculptural work inspired by the natural world, Helen Gordon creates quirky and amusing animal and figurative sculptures, Fred Gordon produces fluid wildlife sculptures, Charlotte Hern focuses on portraiture, Sara Ingleby-MacKenzie's work captures the spirit and form of people and animals, and Shane Whitehead specialises in unique hand-built bronze guitars.
The exhibition will also give visitors a rare insight into the workings of the long-established bronze foundry, Art of a Fine Nature, based in Shepton Mallet. Foundry owners Jon and Hester Privett collaborate closely with the creators to cast finish and patinate bronze sculptures in all forms and sizes for artists in the UK and abroad. Artefacts, tools, videos, photographs and demonstrations of the techniques and processes involved in bronze casting using the 6,000-year-old lost wax method will be featured.
Visitors can also watch bronze-casting demonstrations in the courtyard at Black Swan Arts on Saturday 26 May at 3pm and Saturday 7 July at 3pm. The exhibition continues until 15 July.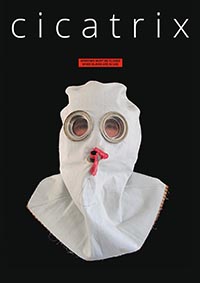 Date published: 13 April 2018
Cicatrix
Date: 14 April – 19 May 2018
Location: Long  Gallery

A new exhibition exploring the scarred landscape of Salisbury Plain has opened at Black Swan Arts in Frome.
'Cicatrix: Call and Response' is a First World War centenary project incorporating drawing, installation and film. The work presents an alternative insight into the First World War legacy. Henny Burnett, Prudence Maltby and Susan Francis are Wiltshire artists whose collaborative partnership is concerned with the effects of the military presence on Salisbury Plain. Their work is united by the concept of scarring – the physical wounds left behind, seen as part of this unique landscape; and then the other scars – obscured but clearly evident as memories mapped within those who have experienced conflict.
Salisbury Plain is a chalk plateau covering 300 square miles in the heart of Wiltshire. This landscape of extremes is owned by the Ministry of Defence and has been used as a training ground since 1898. Evacuated villages serve as a vital training ground, abandoned by their inhabitants and frozen in time. Neolithic barrows exist alongside First World War trenches; soldiers' graves, reflecting the nationalities which came to this area to prepare for war, rest beside the remains of Anglo-Saxon warriors.
For the artists, Salisbury Plain presents an empty canvas on which to express the work that is 'Cicatrix'. Prudence Maltby's evocative drawings use layer upon layer of mark making to map geographical and psychological scars; Henny Burnett's work has its roots in the gathering and documenting of artefacts and found materials given up by the land; and Susan Francis presents a series of films revealing hidden images and messages within the silently watchful trees of the Plain. The artists will discuss their work at a talk in the Long Gallery on Saturday 28 April at 2pm.
Cicatrix is a member of the First World War Centenary Partnership, led by Imperial War Museums, and forms a network of regional, national and international cultural and educational organisations. For the project's four year journey, reflecting the centenary of the First World War, Cicatrix is supported by Wiltshire Council, Arts Council England and the Artists' International Development Fund.
Date published: 16 November 2017
Found in the Fields
Date: 02–30 December 2017
Location: Long  Gallery
A new exhibition of lithographs and linocuts by Carry Akroyd and ceramics by Richard Phethean, 'Found in the Fields', will be on show during December in the Long Gallery at Black Swan Arts in Frome.
Over the past 25 years Carry Akroyd has been creating paintings and prints that reflect and react to the sudden agricultural modernisations that have transformed our landscape. Some of her images are a lament, while others express the sheer joy derived from the natural world. They both reflect the landscape of today with roads, pylons, planes and wind farms, but also reveal how the natural world exists alongside us.
Carry's colourful works all contain extracts of John Clare's poetry. She feels that 'His eye, mind and heart reach across time in his writing.' Carry will present a talk on the poetry of John Clare and how he inspires her work on Saturday 2 December at 2pm.
Richard Phethean's work has grown out of the domestic ware oeuvre but has become more sculptural in the last 10 years. His new work has been partially inspired by the exploration of planes and surface seen in the cubist work of Braque and Picasso which depict the abstraction of ordinary domestic objects such as jugs and vases. He also draws on the ceramic traditions of English country slipware and ancient Minoan ceramics. He throws and alters these sculptural forms in coarse textured terracotta and decorates using layers of brushed clay slip and hand-cut paper stencils.
The show has been curated by Miranda Leonard of the Restless Gallery. The preview takes place on Friday 1 December from 6–8pm – all welcome.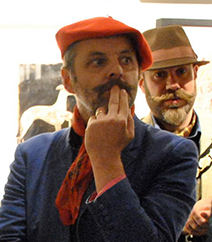 Date published: 18 October 2017
Fifteenth Black Swan Arts Open
Date: 02–29 November 2017
Location: Long  Gallery
The prestigious Black Swan Arts Open exhibition opens this week in Frome featuring an impressive range of contemporary, original art.
The judges – writer and broadcaster Mariella Frostrup; Dea Vanagan, director of Hauser & Wirth Somerset; Stephen Snoddy, director of New Art Gallery Walsall; Gary Sangster, director of Drawing Projects UK and trustee of the Arnolfini; and Seamus Nicolson, winner of the Black Swan Arts Solo Art Show in 2015 – have selected an exceptional body of work from the 900 entries received this year from over 480 artists, the highest figure ever.
The artwork covers a variety of media, including painting, drawing, printmaking, ceramics, photography, sculpture, moving image, multimedia and textiles. All the work on show is for sale and prices range from £90 to £12,000, so the exhibition offers a great opportunity to pick up some unique and affordable artwork.
The shortlisted artists have the chance of winning a series of impressive prizes, including the Hauser and Wirth Somerset First Prize of £750, the Black Swan Arts Solo Show Prize, the Mount Art Student Prize, the Postscript 3D Prize, Sam's Kitchen Deli Local Artist Award and the Babington House Mentoring Award. Black Swan Arts would also like visitors to get involved and vote for their favourite piece in the show for the Frome Town Council People's Choice Award.
Everyone is welcome to attend the preview night on Wednesday 1 November, which will also feature live DJs and music in Divas Café from 6–9pm. So, come along, enjoy the buzzing atmosphere, mingle with the artists and, most importantly, buy some extraordinary art.
The Open is an annual competition for original artwork by both established practitioners and emerging artists, and has established a reputation for attracting some of the very best contemporary artists and artworks. The show continues at Black Swan Arts until 29 November.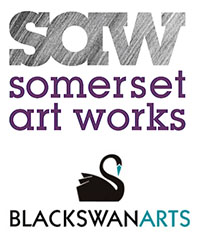 Date published: 29 July 2017
Ellie Mawby, Somerset Art Works Creative Pathways Bursary Artist
Date: 23 Sept – 7 Oct 2017
Location: Foyer and Divas Café
Themes of air, atmosphere and pollution in handmade paper and ink.
Graduated with BA (Hons) Contemporary Arts Practice from Bath Spa University, Ellie Mawby works with paper, ink, textile and mixed media. Her work will draw attention to the public's unawareness of the serious issue of pollution and its effects on both a local and global scale. It offers a sense of peacefulness to engage the viewer to ponder about the simplest stroke of black ink, the intricate marks or traces of lines.
'I hope to achieve further exploration and an exchange of ideas and proactive ways to visually communicate as part of the Creative Pathways Bursary, and I envision that my art practice will benefit from gaining insight and new perspectives from receiving mentoring and support' says Ellie.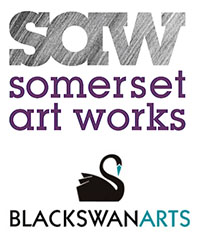 Date published: 29 July 2017
Cameron Scott and Nick Weaver, 'Proportion and Perspective'
Date: 23 Sept – 7 Oct 2017
Location: Pop Up Gallery
Work in wood: figurative relief carvings in lime; unique furniture in reclaimed or found materials.
Nick makes practical but unconventional and unique furniture, often using reclaimed or found materials. While some of his pieces start with an idea for which the right wood has to be found other pieces are inspired by the nature of found timber.
Cameron taught himself to carve after acquiring a set of old chisels. Cameron makes figurative relief carvings in lime wood telling stories from his life – the people, places and memories that influenced and inspired him. His latest carvings tell of his recent move from Lancashire to live in Frome and incorporate images of Somerset and the South West.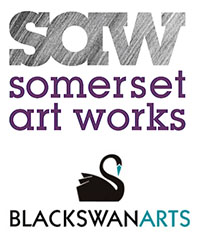 Date published: 29 July 2017
Fiona Campbell and Angela Morley
Date: 16 – 22 Sept 2017
Location: Round Tower Gallery
Fiona Campbell and Angela Morley will be transforming the Round Tower with sculptural forms rooted in the natural world; wrapped, woven and layered.  They have been exploring the materiality of paper and leaf forms in different ways. 'We both 'prospect' for our materials – found and reclaimed, respecting the preciousness of the environment' explains Angela.
Fiona is interested in life forms, micro primal structures, nature's cyclical persistence and interconnectedness 'often blurring boundaries between drawing and sculpture'.  Angela has been developing a new body of work based on leaves; stretching abstract forms back to the cusp of functionality.  Their work will span 2 venues: Black Swan Arts, Frome in East Somerset, and Clayhill Arts, near Bridgwater, West Somerset.
Workshops 'Organic Forms' (booking essential):
Wed 4 October 1-3pm with Angela Morley
Sat 7 October 1-3pm with Fiona Campbell)
Date published: 12 July 2017
Drawing together
Date: 22 July – 3 Sept 2017
Location: Long Gallery
Black Swan Arts in Frome is hosting a prestigious touring show of artists' sketchbooks, SKETCH 2017, over the summer.
The SKETCH competition and touring exhibition aims to promote the diversity and importance of drawing and the role of the sketchbook in contemporary creative practice. The works on show in SKETCH 2017 have been selected from an international submission of over 500 sketchbooks. The panel of judges included painter and printer Tom Hammick, sculptor Peter Randell-Page RA and Gill Saunders, a senior curator from the Victoria and Albert Museum.
Meryl Ainslie, founder and director of Rabley Drawing Centre in Wiltshire who launched the SKETCH Open Sketchbook Drawing Prize in 2005, says: "The handling of a sketchbook takes us to the heart of the space inhabited by the artist. The turning of a page brings a flow of ideas: fragments of images to come, references to places visited, experiences absorbed and thoughts provoked. It is a unique and privileged position, the prospect excites and the time spent rewards."
To run alongside the show, a half-day sketchbook workshop, 'Grow with Your Sketchbook', which is aimed at young people aged 8+, is being led by artist Duncan Cameron and curator Aya Kobayashi. The workshop, which is sponsored by Visual Arts South West, takes place on Saturday 22 July from 10am to 12.30pm and aims to give young people the chance to get creative during the summer holiday.
Participants will work from an array of interesting natural objects (which will be provided) and respond to both the sketchbooks on show and Duncan Cameron's work. The workshop will cover observation, collecting evidence, mark making and annotation through an experimental booklet of sketches in mixed media. Tickets cost £16.50.
Date published: 28 June 2017
Visual Arts South West summer workshops at Black Swan Arts
As part of the much celebrated national touring exhibition 'Sketch', showing at Black Swan Arts, 22 July – 3 September, Visual Arts South West are sponsoring the following workshops to give young people the chance to get creative during the summer holiday at Black Swan Arts.
'Grow with your Sketchbook' will run on Saturday 22 July, 10am-12.30pm, Long Gallery, Black Swan Arts, £16.50 pp.  A half-day sketchbook workshop led by artist Duncan Cameron and curator Aya Kobayashi, aimed at young people aged 8+.  In response to the exhibition of sketchbooks and Duncan Cameron's work, participants will work from an array of interesting objects provided, linked to nature.  The workshop will cover observation, collecting evidence, mark making and annotation through an experimental booklet of sketches in mixed media.
'Start with a Sketch to Glove Puppet-making' on Wednesday 9 August, 10am-12pm or 2-4pm, Long Gallery, Black Swan Arts, £16.50 pp.  A half-day workshop led by Greg Stephens (Cornelius Clifford puppets) and artist Fiona Campbell, aimed at children aged 5+ accompanied by adults.  Children will be making simple glove puppets initiated by sketches inspired by the exhibition 'Sketch' and resources provided, using found materials eg. fabric, faux fur, foam, beads, buttons, wire, pipe cleaners.
To book one of these workshops visit www.eventbrite.co.uk
Further workshops linked to forthcoming exhibitions at Black Swan Arts during Somerset Art Weeks are planned to engage the local community.  These include Organic Forms Workshops
by Angela Morley (Wednesday 4th October, 1-3pm, book: angela@wildgardens.co.uk) and a Family Friendly workshop run by Fiona Campbell, (Saturday 7th October, 1-3pm, book: fionacampbell-art@sky.com).
Black Swan Arts are also excited to be working with Visual Arts South West as a guest editor of their newsletter in July.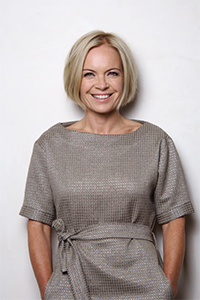 Top to bottom: Fiona Campbell, Ellie Mawby, Nick Weaver/ Cameron Scott, Angela Morely and Mariella Frostrup one of this year's BSA Open judges
Date published: 30 May 2017
Fresh Face of Black Swan Arts
Black Swan Arts is going through some exciting changes that build on its growing reputation as one of Somerset's leading arts centres.
The fresh face of the Frome-based venue starts with a brand-new website – www.blackswan.org.uk – just one of many ways forward to a promising future.
Black Swan Arts' Friends' Scheme has been given a new lease of life by volunteer Friends' coordinator, Rachael Holtom. A 'studio safari' in June for Friends will involve visits to several local artists' studios, including Janette Kerr, David Parfitt and Kim Birchall, and end with tea and cake in Fiona Campbell's sculpture garden.
Forthcoming exhibitions for the second part of 2017 kick off in the Long Gallery with 'In the Absence of Truth' (17 June–15 July), a powerful exhibition of paintings and works on paper by Ricky Romain and text assemblages/books by Heather Fallows inspired by human rights issues. The preview evening takes place on Friday 16 June at 6–8 p.m.
This is followed by a national show, 'Sketch', which runs from 22 July to 3 September, with a preview evening on Friday 21 July at 6–8pm. The touring exhibition of artists' sketchbooks, selected from over 500 international entries, aims to promote the importance of drawing and the role of the sketchbook in contemporary creative practice. There are just three other venues for this spectacular exhibition – Marlborough, Plymouth and Lancaster – so this is a must-see show this summer!
Award-winning textile artist Gladys Paulus will be exhibiting her ancestral project Hinterland in the Long Gallery (16 September–14 October) with a preview evening on Friday 15 September at 6–8pm.  Black Swan Arts are collaborating with Somerset Art Weeks, with three exhibitions addressing this year's festival theme, 'Prospect'.  In the historic Round Tower Gallery, Angela Morley and Fiona Campbell will be showing new work in 'Ephemeral and Eternal' (16 September–7 October), the Pop-Up Gallery will host Nick Weaver and Cameron Scott with two contrasting views of wood (23 September–7 October), and Somerset Art Works' Creative Pathways Bursary Artist, Ellie Mawby, will be showing in the foyer and cafe area.
The ever-popular Black Swan Arts Open (2–29 November) will be judged this year by a prestigious line-up, including Mariella Frostrup. The deadline for entries is 8 September and submissions can be made online via or website from mid-July. This will be followed by the Christmas show (2–30 December) which will feature Carry Akroyd and Richard Phethean.
The four popular studio shops at Black Swan Arts offer visitors the opportunity to watch crafts people at work and buy directly from them. Lila Streether paints botanical subjects and landscapes in watercolour – living on the edge of the Mendip Hills gives her plenty of inspiration. Jewellers Linda Sandeman and Yasemin Sweet offer an exciting mix of contemporary and filigree jewellery in Studio 2. Suzi Waterworth designs and makes fosse beads – porcelain charm beads and jewellery to collect, combine and coordinate. West Australian-born artist Jack Perkins works in many different mediums including brush, black ink and fine liners to striking effect.
Black Swan Arts recently participated in BBC's nationwide 'Get Creative Day'. Artisans and MA students from Bath Spa University offered drop-in taster workshops for adults and children, and the whole building was buzzing with creativity. Numerous families visited the workshops trying out new skills and making wonderful artworks to take away.
Further workshops linked to forthcoming exhibitions, including 'Sketch' and Somerset Art Weeks, are planned to engage the local community. These will involve a range of talks by visiting artists and art/craft activities at the centre. Black Swan Arts are also excited to be working with Visual Arts South West, as a guest editor of their newsletter.
 Top to bottom: Portrait of Ricky Romain by Robert Golden, 'Lost Voices 10' by Ricky Romain.
Date published: 19 May 2017
Event: Ricky Romain – In the Absence of Truth
Date: 17 June – 16 July 2017
Location: Long Gallery
A powerful new exhibition at Black Swan Arts in Frome called 'In the Absence of Truth' showcases paintings and works on paper by Ricky Romain and related text assemblages/books by Heather Fallows.
The work of both artists is inspired by human rights issues, focusing on the themes of asylum, sanctuary and immigration. Ricky believes that engaging with contemporary human rights issues makes 'the truth' a potent element in a work of art, particularly in this age of alternative facts and post-truth politics.
He hopes that this honesty of purpose gives the work an indisputable integrity: 'An artist's relationship with the truth is complex and intriguingly nuanced. Sometimes it is mystifyingly precarious; often it is more concerned with a poetic truth that depends on mutual understanding and empathy.'
He asserts that works of art can be rallying points, absorbing the thoughts and interpretations of those who give their time to understand and appreciate them. This 'collective deciphering' can be silent and secret or vocal and vociferous. Whichever way comment is manifested, he suggests, it is usually part of a collaborative search for honesty of intent and sincerity of expression from both artist and audience.
Ricky has been an artist for nearly 45 years, working with pigments and glazes that he mixes himself, as well as Indian ink, paint and gesso-primed canvases to create a surface that can be scratched into. For the last 17 years, he has become preoccupied with humanitarian causes. His work has been exhibited in galleries nationally and internationally, including the International Secretariat of Amnesty International and the European Council of Human Rights building in Strasburg. He will be hosting a panel discussion on human rights on Thursday 29 June in the Long Gallery at Black Swan Arts at 7 p.m.
Ricky is also a classically trained sitar player and has performed regularly in the UK and Europe. On Saturday 15 July, he will be performing a recital at Black Swan Arts at 3.30 p.m.
Heather Fallows is a freelance artist who works with a variety of materials and found objects to create assemblages and text-inspired works. She is interested in the origin of language and the genesis of its meaning and formulation, and often uses poetry to inspire her work.
For many years, Ricky and Heather ran their own art gallery in Axminster, supported by Dartington College, showing exhibitions of their own and other artists' work. They have worked on a series of educational and community projects throughout the UK, often using human rights issues to inform participants' artwork.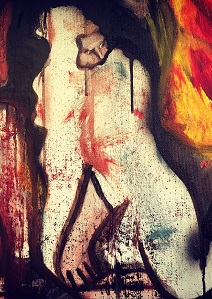 Date published: 28 April 2017
Event: Steve Burden – 'Utopian Myths'
Date: 13 May–10 June 2017
Location: Long Gallery
Black Swan Arts in Frome is hosting a new exhibition of paintings by the winner of the Black Swan Arts Open 2016, Steve Burden, inspired by dystopian themes associated with housing estates.
'Utopian Myths' features work informed by Steve's childhood growing up on the Pepys Estate in Deptford, south London. As well as the architecture and history of the estate, he also explores social issues affecting urban spaces, such as security, isolation, control, gang culture and population density. He says, "Growing up in an urban jungle, surrounded by out-of-scale concrete fortresses, has inevitably informed my development and visual aesthetic as an artist."
Now based in Wedmore, Somerset, Steve graduated from Goldsmiths College with First Class Honours and Bath Spa University with a master's degree in fine art.
Photo-collage forms the bedrock of Steve's paintings, but layering is also an important aspect of his work, both in terms of building up layers of paint and accumulating multiple readings, so creating a more complex narrative. In some works, layers of paint are removed, allowing the pigment to leach and take on the patina of stained concrete. This is followed by areas of overpainting during which parts of the image are obliterated. He also experiments with the viscosity of the paint and the way it can be dragged across the surface, allowing some areas to permeate whilst obscuring others.
'Utopian Myths' runs at Black Swan Arts from 13 May to 10 June, with a preview evening on Friday 12 May from 6–8pm, which all are welcome to attend. Steve will also be taking part in a Q&A session on Thursday 18 May at 7.30pm as part of this year's Museums at Night initiative (museumsatnight.org.uk).
The painting, Abattoir, which won the Open, is going on tour as part of the 'Alternate Visions: Undiscovered Art from the South West' exhibition organised by Pallant House Gallery. The show opens at Bristol Museum and Art Gallery on 3 June and then moves on to Falmouth, Cheltenham and Poole.
Date published: 24 February 2017
Event: Society of Graphic Fine Art
Date: 4–25 March 2017
Location: Long Gallery
Black Swan Arts in Frome is staging an exhibition of drawings by a prestigious national art society, the Society of Graphic Fine Art. The exhibition includes work showcasing traditional and contemporary techniques in all drawing and printmaking media and in a wide range of sizes and media.
The show forms part of an initiative by SGFA to showcase recent work by members in different parts of the UK.  The SGFA also organises a biennial at the Bankside Gallery on London's South Bank and an annual open exhibition at the Menier Gallery, Southwark.
The society was established in 1919 to promote good drawing and draughtsmanship. It is the only national art society dedicated exclusively to drawing and currently has a membership of over 130 professional artists. This exhibition shows both traditional and contemporary drawing techniques in a wide range of sizes and media.
For more information on current membership and events, see www.sgfa.org.uk  The show runs from 4–25 March in the Round Tower at Black Swan Arts. The official opening takes place on Friday 3 March – all are welcome to attend.
Date published: 15 February 2017
Soaring Towards the Exceptional Black Swan Arts looks forward to an exciting future
After a hugely successful 30th anniversary year in 2016, celebrated with fantastic arts events including 1000 Postcards, which attracted a record number of visitors, Black Swan Arts Centre is looking forward to an exciting future. 2017 is set to be the start of exceptional development and growth. Trustee Alex Webb says: "We are listening to the community and trustees are actively putting together an exciting, engaging development programme to enhance the visitor experience."
It has been a miraculous and often turbulent journey for Black Swan, which opened in 1986 in a disused ex-public house, believed to date back to the 17/18c. The original building was joined to the Round Tower (an old wool drying house – early 19thc) by an extension in 2000. The Arts Centre has undergone several setbacks, but through sheer hard work and public support, it has pulled through. Now thriving, Black Swan is a vibrant, dynamic Arts Centre, which raises cultural levels in Frome and reaches all ages and audiences.
Black Swan Arts continues to work towards being a hub for the community and for local, national and international artists, showing high quality, accessible art. A vital part of the centre is the provision of studio and workshop spaces, where visitors can see works in progress, as well as the ever-popular café and shop. A charitable Arts organisation run by a dedicated team of trustees, volunteers and a part-time member of staff, Black Swan' s vision is to keep expanding its reach and potential. Fund-raising is part of this plan and a renewed Friends Scheme has been developed.
Seamus Nicholson, winner of Black Swan Open 2015, is currently showing photographic work ' exploring the peripheral everyday' inthe Long Gallery. Coming soon (18 March – 15 April), Bath Spa University' s MA show ' The Future Can' t Wait' showcases work by post-graduate artists who will give talks, welcome schools to the gallery and engage with young people. Frome Art Society return for their popular exhibition (22 April – 6 May). Last year' s Open winner Steve Burden returns for a solo show (13 May – 10 June). Human rights artist Ricky Romain will be showing in June, leading to a major touring exhibition ' Sketch' coming to Black Swan (22 July – 3 Sept), followed by textile artist Gladys Paulus' ' Hinterland' in the Long Gallery. Collaborating with Somerset Art Weeks Festival ' 17 themed ' Prospect' , the Round Tower Gallery will show Fiona Campbell and Angela Morley' s new work entitled ' Ephemeral and Eternal'.
Always popular, the Black Swan Open and Christmas shows will round up the year. "Our aim is to provide an inspiring, inclusive and welcoming artistic hub, where the community and visitors from afar can enjoy and engage in aspirational and occasionally challenging art. A place where artists and visitors might rise above the mundane, even soar towards the exceptional," says Amanda Sheridan (Chair of Trustees).
Black Swan' s new website currently being developed will reflect these values
Black Swan Art is revitalising its Friends group and inviting local art lovers to join.
Black Swan Arts, Fromes innovative contemporary art gallery, is revitalising its Friends group and inviting local art lovers to join.
The Friends are a key pillar of support for the centre, providing crucial financial assistance and acting as advocates for the free-admission gallery which promotes local artists.
Black Swan Arts hosts approximately 20 shows each year from painting, craft and sculpture to photography, drawing and textile-art. There is also a cluster of studios. Art societies from Frome often display their work in the galleries and the centre organises community art, such as last years Secret Swans project which saw swan-inspired art decorating the town. We are so grateful for all the help our Friends give, said Rachael Holtom, the new Volunteer Co-ordinator of the Friends group, To say thank you we offer a variety of benefits, including regular newsletters, invitations to show pre-views, a 10% discount on work purchased in the galleries and studios, an annual visit to another gallery or artists studios, as well as chances to meet Trustees, find out more about where we are heading and get more involved. Above all, Friends know they are helping the creative community of Frome.
We welcome donations of at least £25 for new members and I really look forward to meeting new Friends