Studio Shops
Our studio shops offer visitors the opportunity to watch crafts people at work and buy directly from them. Our resident makers are happy to discuss your individual requirements to create that special one-off piece. Please telephone the individual makers to confirm opening times or arrange an appointment.
We are currently looking for tenants for two of our studio shops. These are highly sought after spaces, so we will not be able to accept applications after the deadline.
Studio Shop 1 – Lila Streether
Black Swan are pleased to welcome its newest tenant to the artisan corridor, Lila Streether! Lila has a beautiful range of original botanical paintings and drawings in acrylic, watercolour and pen as well as cards available.
Studio Shop 1 is open 10am – 4pm, Tue – Sat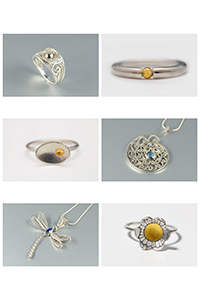 Studio Shop 2: Linda Sandeman & Yasemin Sweet
Two Jewellery makers occupy Studio 2 in the Artisan corridor here at Black Swan. Linda Sandeman and Yasemin Sweet offer an exciting mix of Contemporary and Filligree Jewellery. The studio is a workshop and gallery so you can discuss their work with them whilst seeing it being made!
Studio Shop 2 is open 10am – 4pm, Mon – Sat
Linda | Mon – Fri – Sat       Yasemin | Tues – Wed – Thus
Studio Shop 3 : Ellen Mulcrone
Ellen is glad to find a space to call her own at Studio Shop 3. Previously she has used temporary spaces to work from and describes this move as "the perfect development for my creative practice". The consistent workshop space will allow her to continue large-scale sculpting, but also expand on painting and other forms of weaving.
She began creating pods during her art foundation degree in Falmouth. Her desire to create these cocoon-like structures stemmed from two strong interests: mindfulness and pears.
Studio Shop 3 is open 10am – 4pm, Mon – Sat
Studio Shop 4 : Discover Frome Information Point
Discover Frome Information Point is currently situated in Studio 4.
The information point is seen very much as a trial but it is hoped that it will be very popular with residents and visitors alike and if it is successful there is the possibility that it may become a permanent fixture in some way.
Studio Shop 4 is open 10am- 4pm Tue- Sat