Black Swan Arts Exhibition Archives 2019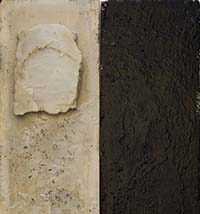 Title: Eleanor Bartlett – Matter
Date: 5 January – 9 February
Preview: Friday 4 January, 6-8pm -all welcome
Artist Q&A: Friday 8 February, 6-8pm – rescheduled due to snow
Eleanor Barlett is coming to Black Swan Arts Long Gallery with a show called 'Matter'.
Her work is created with unusual and challenging materials such as tar and metal paint.
Find out more about Eleanor Bartlett's exhibition and Q&A session…
Title: The Sands of Time, Stina Falle
Date: 26 January – 2 February
Preview: Friday 25 January, 6-8pm
Imbolc event: Friday 1 Feb, from 6pm – open mic and optional food for purchase
Frome artist, Stina Falle is selling her creative estate – paintings, prints, drawings and other artefacts – to raise money for the charity Mind in Somerset
This sale will help to fund essential counselling services for young people at risk of suicide and self-harm. As a survivor herself she would also like this revelation of her life's work to encourage others to share their stories and pictures with her while she is in residence.