Black Swan Arts Exhibition Archives 2019
Title: Peter Hayes, Ceramics
Date: 16 February – 23 March
Preview: Friday 15 February, 6-8pm -all welcome
Artist's talk: Wednesday 13 March, 7.30pm – free to attend, booking not required
Peter Hayes is an international artist working in ceramics, bronze and glass. He has been at the forefront of contemporary ceramics for decades. And has been an influence on many artists working in ceramics and other materials. He makes small to large scale garden sculpture.
Title: Making a mark, Frome College
Date: 9 – 23 February
Preview: Saturday 9 February, 12pm midday
'Making a Mark' is a Young Artists' show displaying creations made by talented young artists at Frome College and featuring selected works created by Frome's Middle Schools.
Creativity is at the core of Frome College and much value is attached to freedom of expression in the arts.
Title: 'Freedom' Artbox, Frome
Date: 25 February – 3 March
Screen printing workshops 3 March
A group exhibition, showcasing original artwork and limited edition prints from the Artbox Frome artists.
Artbox Frome is a charity working with adults with learning disabilities to create, exhibit and sell their artwork. By purchasing their work you acquire unique and affordable art, while providing a source of income for the artists, as well as partly funding our workshops, exhibitions and studio sessions.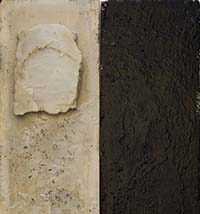 Title: Eleanor Bartlett – Matter
Date: 5 January – 9 February
Preview: Friday 4 January, 6-8pm -all welcome
Artist Q&A: Friday 8 February, 6-8pm – rescheduled due to snow
Title: The Sands of Time, Stina Falle
Date: 26 January – 2 February
Preview: Friday 25 January, 6-8pm
Imbolc event: Friday 1 Feb, from 6pm – open mic and optional food for purchase
Frome artist, Stina Falle is selling her creative estate – paintings, prints, drawings and other artefacts – to raise money for the charity Mind in Somerset
This sale will help to fund essential counselling services for young people at risk of suicide and self-harm. As a survivor herself she would also like this revelation of her life's work to encourage others to share their stories and pictures with her while she is in residence.