Black Swan Arts 2019 Event Archives
Featuring an archive of events which have taken place in Black Swan Arts, including workshops, artist talks, panel discussions, art carboot and more…
Christmas shopping evening
Friday 29 November, 4-8pm
Yoga Breakfast Club
Saturday the 22 June, 9am
Long Gallery & Black Swan Café
£20
A great way to combine yoga, art and breakfast, this trio will make the perfect start to your weekend:
9am, yoga in the Long Gallery
10am, breakfast in Black Swan Café
This regular yoga breakfast club event is hosted by Maddie of Yoga with Mad.
"Black Swan Arts long gallery will be our yoga studio for the morning- a beautiful space to move in. After an hour of energising, zen filled yoga we'll be heading downstairs to enjoy breakfast at The Black Swan Cafe. Look forward to a menu created to norish and excite the taste buds!"
Email Maddie to book your spot: yogawithmad@gmail.com
10% of all sales goes to Black Swan Arts.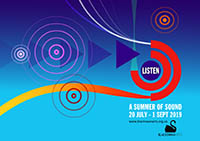 LISTEN – a summer of sound
20 July – 1 September
Black Swan Arts, Frome Festival events
2 – 15 July
Booking essential, through Frome Festival website
Title: Casting the World: The Story of JW Singer & Sons
Date: 4 – 14 July
Weekday workshops for school groups
Weekend workshops for the public, free to attend, booking required
Come and try your hand at being a casting apprentice at this family-friendly workshop. The Long Gallery at Black Swan Arts will be transformed into a casting studio, bringing history alive and offering the opportunity to learn the basics of the casting techniques used to such great effect at the J.W. Singer & Sons foundry in Frome more than 100 years ago. Note – no hot metal involved!
1 hour weekend sessions are available for the public and weekday sessions are available for school groups.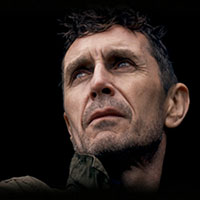 Perplexed Music: Exploring love and loss through film & music.
Saturday 29 & Sunday 30 June, 1-2.30pm
Round Tower Gallery
£5 entry, booking is essential
An audience with Frome Artist Mark McGann. Includes screening of short film followed by Q&A and signings of DVD and CD.
"Locked in a dark world of profound loneliness, will he find the reason to carry on before he's lost forever?"
Perplexed Music is an original short screenplay by Mark McGann about the universal cycle of devoted love, loss and rebirth, based on the Petrarchan (Italian) sonnet of the same name by Elizabeth Barrett-Browning.
The film will explore the temporary madness and isolation experienced by a middle-aged man (played by Mark's brother actor Paul McGann) as he battles for reason and stability with worlds past and present, in need of closure and the strength to continue on his journey without his life companion.
The film was shot entirely on location in Frome, Cornwall and the Cotswolds in July 2017 and showcases the success of crowdfunding original artistic projects.
Places are limited so pre-booking is essential.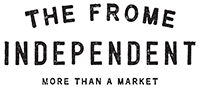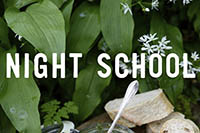 Black Swan Café & Frome Independent
Summer events
Japanese Street Food supper club with Kinori
Thursday 13 June, 7 – 9pm
Tickets £42 (£37 for Market Makers)
Festival Floral Headdress with Fizz Goes Pop
Wednesday 19 June, 6 – 9.30pm
Tickets £50 (£45 for Market Makers)
Foraging Walk with Dave Hamilton
Wednesday 3 July, 6 – 9.30pm
Tickets £40 (£35 for Market Makers)
Syrian Supper Club
Wednesday 17 July, 6 – 9.30pm
Tickets £25 (£20 for Market Makers)
Leatherwork, belt making with Badger House Leather
Wednesday 25 September, 6 – 9.30pm
Tickets £60 (£55 for Market Makers)
Fermentation, make + eat with Bath Culture House
Wednesday 9 October, 6 – 9.30pm
Tickets £40 (£30 for Market Makers)
Kokedama, a variant of bonsai with Pilea Plant Shop
Wednesday 6 November, 6 – 9.30pm
Tickets £40 (£35 for Market Makers)
Knitting workshop
Wednesday 13 November, 6 – 9.30pm
Cost tbc
All events take place at Black Swan Arts. Find out more on The Frome Independent website. Book your tickets by emailing  admin@thefromeindependent.org.uk
All Things Being Equal Q&A
With Sandra Porter RWA  & Professor Anita Taylor
Thursday 13 June, 6-7.30pm
Long Gallery
Tickets are free but registration is required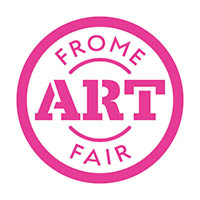 Frome Art Fair
4-5 May
Black Swan Arts | Rook Lane | Silk Mill
Frome Art Fair returns this Spring. Held over two days at three of Frome's major arts venues, the fair offers the chance for artists to meet new potential buyers, sell their work and network with other artists.
This year the Frome Art Fair is being run in conjunction with local charity We Hear You (WHY), who offer free professional counselling to those affected or bereaved by cancer and other illnesses. All profits made will go directly to WHY.
Follow Frome Art Fair on Twitter and Facebook: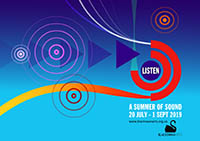 Crowdfunding launch event for 'LISTEN – a summer of sound'
Thursday 25 April 6-7.30pm,
Black Swan Café
LISTEN has been in development for the last 18 months. During that time Mel Day from our Programming Group, curator Helen Ottaway and trustee Rebecca Morland have been working on planning, commissioning and fundraising. And with some success, including Black Swan Arts' first major grant from Art Council England for some time.
They are mounting a crowdfunder campaign to raise £4000. This will enable them to commission new pieces of sound art from well-known artists.
Annual General Meeting (BSA)
Monday 8 April, 6.30pm
Long Gallery
At our AGM, we discuss what Black Swan Arts have achieved over the last 12 months. We also look forward to the next 12 months; strategy, exhibitions, workshops, community events and more.
We welcome all members of the public and are happy to hear from anyone who has ideas or would like to volunteer time and expertise. Booking is not required.
Window Wanderland
1 ‑ 3 March, 5.30 – 9pm
In windows around Frome
A wonderful collaborative community event in aid of 'Lifting people's spirits. And warding off feelings of isolation.' Funded by the Frome People's Budget.
Set designer, Lucy Reeves Khan started Window Wanderland in 2015, inspired by her vivid imagination, her deep-seated community spirit and her personal experiences of isolation due to years of chronic illness.
Lucy imagined her local streets alive with other people viewing dramatic, beautiful or just silly scenes in the windows around her neighbourhood. She wondered if, in the dark of winter, these displays would cheer up others too. She put on her first event in her own community. It was a huge success. Other areas wanted to join in, and the rest, as they say, is history…
To see who is taking part in and around Frome, view the map online.
Black Swan Café will be open late throughout and printed maps will be available to take away.
Window Wanderland Drop-In Workshop
Thursday 7 February, 6.30 – 9pm
Round Tower Gallery and Black Swan Café
A drop-in Window Wanderland Workshop/Social for adults. Come and get inspired with others.
Plan, draw and make something for your own window, or maybe collaborate on something with someone else! Remember to bring window measurements if necessary and any materials you may have. Some materials will be available to use and the Black Swan Café will be open for refreshments.
Words at the Black Swan
Monday 7 January, 3 – 4.30pm
Long Gallery
£5
A drop-in writing group which meets in the Gallery on the Monday after each launch, to respond to the new exhibition.
Poet Louise Green will guide this session.
Bring a notebook & pen and an open mind.
Find out more about Words at the Black Swan from their Facebook page.