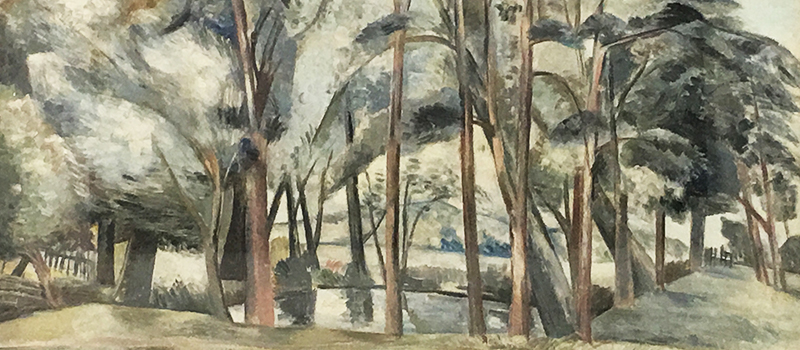 Paul Nash (1889–1946)
Pond in the Fields (1927)
This painting has only been shown in public on four previous occasions: at Leicester Gallery in 1928, Venice in 1938, the National Gallery in 1940 and the Tate Gallery in 1948 at a retrospective of Nash's work. It was a private commission and remains in the same family collection.
Paul Nash is one of Britain's most important artists, a twentieth-century surrealist painter who was instrumental in the development of modernism in English art. His initial inspiration came from ancient features of the landscape such as the hill forts and stone circles that abound in the chalk landscapes of southern England. Then, as one of the greatest war artists Britain has ever produced, Nash painted some of the most iconic scenes from the First World War, such as The Menin Road and We Are Making a New World.
Trees appeared in Nash's work throughout his life – from his early watercolours of a line of pollarded elms at the bottom of the family garden in Buckinghamshire, to the ragged stumps of lifeless trees in his war commissions and in his later paintings of Wittenham Clumps in Oxfordshire.
During the late twenties and early thirties, Nash went through an experimental phase producing ever more surreal and supernatural scenes. His techniques developed to encompass wood engravings used extensively for book illustrations as well as in textiles and photography.
Pond in the Fields shows a group of trees clustered around a dark pond and features in a book which Nash had been preparing in the two years prior to his death – Paul Nash: Paintings, Drawings and Illustrations, edited by Margot Eates – which was published posthumously in 1948 by Lund Humphries.