Title: LISTEN – a summer of sound
Date: 20 July – 1 September
Preview: Friday 19 July, 6-8pm
Fundraising
LISTEN has been in development for the last 18 months. During that time Mel Day from our Programming Group, curator Helen Ottaway and trustee Rebecca Morland have been working on planning, commissioning and fundraising.
We have received support from:
Donations to this new and exciting season of sound:
by cheque payable to 'Black Swan Arts' (please write LISTEN on the back of your cheque)
email office@blackswanarts.org.uk to make a bank transfer (add 'LISTEN' as your payment reference
The Exhibition
"I am thrilled that Black Swan Arts has asked me to curate this season and delighted to be able to work with Frome's amazing arts community as well as bringing some wonderful sound artists to Frome. "
LISTEN curator, Helen Ottaway
Alongside the exhibitions, installations and events, LISTEN will have an information and listening hub in the Round Tower where you can immerse yourself in a library of sound art and related films. You will be able to respond to the things you have heard within and beyond Black Swan Arts through our Call and Response Wall. You can hear about deep listening and experience the vibrations of a gong massage and you can take part in talks and workshops.  Frome FM will be broadcasting from LISTEN too. There will be chances to relax in the Round Tower hub and courtyard to chilled out DJ sessions.
The Curators
Mel Day
The idea of creating a season of Sound Art was the brainchild of Mel Day, one of Black Swan Arts Programming Group of Artists.  Mel has been a practising artist and educator for 30 years. She has been part of the BSA programming team for 3 years, assisting withy the design of the Gallery programme and curating exhibitions.  She has managed and led publicly funded projects including Bath Festivals children's parade. projects for Home in Frome and most recently Light the Night lantern procession with over 1,000 participants.
Helen Ottaway
Helen Ottaway is the creative lead for the season as well as being actively involved in presenting existing and new work with Artmusic. She has over 30 years experience creating, curating and contributing to publicly funded projects, particularly in London and the South West. Alongside directing Artmusic she writes music and creates sound installations independently, working with a wide range of organisations and artists including BBC, Inside Out Dorset, Salisbury Festival and Bath Film Festival and the First International Festival of Human Rights in Colombo, Sri Lanka.
A sample of some of the sound art we will be hosting this summer…………
Scanner, aka Robin Rimbaud, has been creating sonic art, music, performances and recordings since 1999.   He has scored 65 contemporary dance productions, including works for the London Royal Ballet and Merce Cunningham in NYC. In 2016 he installed his Water Drops sound work in Rijeka Airport in Croatia and scored the world's first ever Virtual Reality ballet, Nightfall. You may have seen him on Grand designs last year talking about his permanent sound piece for Vex House, the residential house by Chance de Silva architects which won the RIBA London Award 2018. Scanner is skilled at creating sound environments which tell the story of a community and for LISTEN we will be asking him to respond to one of the many building or sites of historical interest in Frome.  
We also hope to host composer Errollyn Wallen.  Described by the Observer as a 'renaissance woman of contemporary British music'  – she is as respected a singer-songwriter of pop influenced songs as she is a composer of contemporary new music. Communication is at the centre of both worlds: engaging the audience, speaking directly to hearts and minds.
She has written for all kinds of forces from piano pieces to opera (including the opera YES with Bonnie Greer)  and her works Principia and Spirit in Motion were commissioned for the opening ceremony of the 2012 Paralympic Games.  Errollyn has recently begun working in the area of site specific music, writing a set piano pieces for four extraordinary women who have lived at Cliveden in Buckinghamshire.  The pieces were relayed in the Sounding Chamber – an atmospheric and slightly subterranean space under the main house.  For LISTEN we hope to commission a new composition written in response to an event in Frome's history.
Helen Ottaway took part in the Sura Medura artists residency in Sri Lanka in 2017.  This spring two other women sound artists, Kathy Hinde and Jane Pitt, were among the artists on the residency.  We intend to feature all three artists in LISTEN, showing films of their work or hosting illustrated talks  and performances.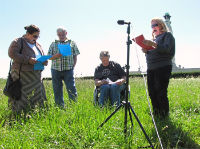 Both Kathy Hinde and Jane Pitt have created work in response to birds, which has by chance become a central theme of LISTEN.  Throughout the season, the exhibition 'A Dawn Chorus' will be on show in the Long Gallery and upstairs in the Round Tower.  This collaborative piece is the work of sound recordist Geoff Sample, visual artist Mike Collier, composer Bennett Hogg and printmaker Alex Charrington. It began with a chorus of 16 birds heard early one mid-May morning in Northumberland.  These birds songs, represented variously as digitally manipulated sonograms and musical transcriptions, form the basis of this show of screen prints, music and digital prints.
The themes of sense of place and history and digital art overlap and combine in the work of Satsymph.  The Bristol-based trio (poet Ralph Hoyte, composer Mark Yeats and software developer and audio engineer Phill Phelps) create GPS-triggered audio experiences for the smartphone.  Working with Home in Frome and the oral history archive collected during the Working Memories project Satsymph will create a sound walk which will allow you to hear sounds and voices in the places where they happened.  Imagine standing in the old market yard  hearing the cattle being unloaded for market as the auctioneers and hawkers ply their trades.  The sounds of the past will be mixed with contemporary views and aspirations for the future, collected during free public workshops.  Here is a film we made to give an idea of what it might be like to go on this sound walk.
LISTEN will feature local artists too.  Artmusic will present their beautiful installation 'Lachrymae' in the Blue House Garden: sound and sculpture inspired by a Greek myth in which girls are turned to trees and their tears to amber. The installation will be animated by Caroline Radcliffe's choir Songbirds for two performances on Sunday 21 July.
Locally-based Poetry in Motion create guided walks following in the footsteps of poets and writers, delivering readings at relevant points along the way. Previous walks including Edward Thomas along the River Frome and Siegfried Sassoon around the village of Mells. Their new walk will focus on the life and writing of Emma Sheppard, workhouse reformer and author of 'Sunshine in the Workhouse', and will trace her regular journey between her Fromefield home and the workhouse with readings along the route.