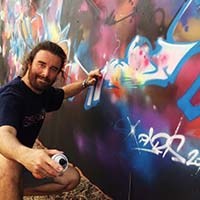 Paris aka Graham Dews – graffiti artist
Young Open 2019 Judge
Graham Dews has built up an extensive and diverse body of work under the graffiti pseudonym PARIS, producing handcrafted letterforms, graffiti art and graphics for the design, music, film and fashion industries.
In 2011 Paris began working closely with UK Indie Rock band Coldplay, creating the Album Cover of Mylo Xyloto, and touring extensively with the band.
In 2017 he had his first solo exhibition in New York, and in 2018 his work was exhibited in Tokyo Japan.
This year Paris aims to pursue his extensive range of watercolour studies, many of which have been used for wallpaper and Interior decorations.
Paris produced the graffiti work at Black Swan Arts Young Open 2018.