Black Swan Café hosts evening events, including our regular popular social, Frome Drink & Draw.
Black Swan Arts Events
Featuring events taking place in and around Black Swan Arts, including workshops, artist talks, panel discussions, art carboot and more…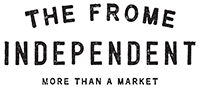 Black Swan Café & Frome Independent
Fermentation, make + eat with Bath Culture House
Wednesday 9 October, 6 – 9.30pm
Tickets £40 (£30 for Market Makers)
Kokedama, a variant of bonsai with Pilea Plant Shop
Wednesday 6 November, 6 – 9.30pm
Tickets £40 (£35 for Market Makers)
Knitting workshop
Wednesday 13 November, 6 – 9.30pm
Cost tbc
All events take place at Black Swan Arts. Find out more on The Frome Independent website. Book your tickets by emailing  admin@thefromeindependent.org.uk
Christmas shopping evening
Friday 29 November, 3-8pm
Late opening at Black Swan Arts with artists and makers from Frome and beyond. Our Studio Shops will be open and also Fosse Beads & Friends. The cafe will also be open selling festive treats. Plus we have a preview in the Round Tower from Black Swan Guild.
More details to follow shortly.
Frome Drink & Draw
Third Thursday of every month, 7.30 – 10.00pm
Entry is free, booking advised
Get your creative juices flowing with a night of sketching and socialising. No experience required, just bring your pens and paper and enjoy a relaxed night in creative company. Arrive any time from 7.30pm.
Bring your own bottle of whatever you fancy. Drink & Draw takes place in the cafe but it won't be staffed.
Frome Drink & Draw is a chance for people to get together for a fun night of sketching and socialising. You may be a professional looking to hone your drawing skills; an amateur artist looking for like-minded creatives or a complete beginner wanting to take up a new hobby. This night is for everyone! You choose your own subject matter and bring your own supplies. There is no teaching and no pressure to create a stunning piece of artwork. What you will find is a fun and supportive environment where you can relax into your sketching with a drink.
Upcoming dates: 24 October (re-scheduled) | 21 November
A drop-in writing group which meets in the Gallery on the Monday after each launch, to respond to the new exhibition.
Bring a notebook & pen and an open mind.
1 April | 13 May | 3 June | 8 July | 22 July | 9 September | 21 October | 25 November
Find out more about Words at the Black Swan from their Facebook page.
TheWriteDay monthly retreat
Second Sunday of every month, 10.30am – 4.30pm
TheWriteDay is for procrastinating writers to get it written ~ and put it right later. We give each other encouragement and support, but don't share our work. We just write. Free tea, coffee, cake and soup. Only £16 for the day.
2019 dates: 13 October | 10 November