Black Swan Café hosts evening events, including our regular popular social, Frome Drink & Draw.
Black Swan Arts Events
Featuring events taking place in and around Black Swan Arts, including workshops, artist talks, panel discussions, art carboot and more…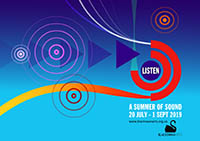 Crowdfunding launch event for 'LISTEN – a summer of sound'
Thursday 25 April 6-7.30pm,
Black Swan Café
LISTEN has been in development for the last 18 months. During that time Mel Day from our Programming Group, curator Helen Ottaway and trustee Rebecca Morland have been working on planning, commissioning and fundraising. And with some success, including Black Swan Arts' first major grant from Art Council England for some time.
They are mounting a crowdfunder campaign to raise £4000. This will enable them to commission new pieces of sound art from well-known artists.
Yoga Breakfast Club
Saturday the 18 May, 9am
Long Gallery & Black Swan Café
£20
A great way to combine yoga, art and breakfast, this trio will make the perfect start to your weekend:
9am, yoga in the Long Gallery
10am, breakfast in Black Swan Café
Maddie of Yoga with Mad is excited to host her first of what will become a regular yoga breakfast club event.
"Black Swan Arts long gallery will be our yoga studio for the morning- a beautiful space to move in. After an hour of energising, zen filled yoga we'll be heading downstairs to enjoy breakfast at The Black Swan Cafe. Look forward to a menu created to norish and excite the taste buds!"
Email Maddie to book your spot: yogawithmad@gmail.com
10% of all sales goes to Black Swan Arts.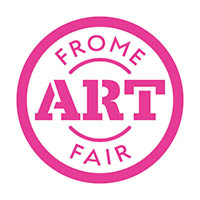 Frome Art Fair
4-5 May
Black Swan Arts | Rook Lane | Silk Mill
Frome Art Fair returns this Spring. Held over two days at three of Frome's major arts venues, the fair offers the chance for artists to meet new potential buyers, sell their work and network with other artists.
This year the Frome Art Fair is being run in conjunction with local charity We Hear You (WHY), who offer free professional counselling to those affected or bereaved by cancer and other illnesses. All profits made will go directly to WHY.
Follow Frome Art Fair on Twitter and Facebook:
Frome Drink & Draw
Third Thursday of every month, 7.30 – 10.00pm
Entry is free, booking advised
Get your creative juices flowing with a night of sketching and socialising. No experience required, just bring your pens and paper and enjoy a relaxed night in creative company. Arrive any time from 7.30pm.
Bring your own bottle of whatever you fancy. Drink & Draw takes place in the cafe but it won't be staffed.
Frome Drink & Draw is a chance for people to get together for a fun night of sketching and socialising. You may be a professional looking to hone your drawing skills; an amateur artist looking for like-minded creatives or a complete beginner wanting to take up a new hobby. This night is for everyone! You choose your own subject matter and bring your own supplies. There is no teaching and no pressure to create a stunning piece of artwork. What you will find is a fun and supportive environment where you can relax into your sketching with a drink.
Upcoming dates: 21 March | 18 April | 16 May | 20 June | 18 July | 15 August | 19 September | 17 October | 21 November
A drop-in writing group which meets in the Gallery on the Monday after each launch, to respond to the new exhibition.
Bring a notebook & pen and an open mind.
1 April | 13 May | 3 June | 8 July | 22 July | 9 September | 21 October | 25 November
Find out more about Words at the Black Swan from their Facebook page.
Frome Festival
6 – 15 July
We'll be taking part in the Frome Festival events as usual with exhibitions and events. More information to follow.
TheWriteDay monthly retreat
Second Sunday of every month, 10.30am – 4.30pm
TheWriteDay is for procrastinating writers to get it written ~ and put it right later. We give each other encouragement and support, but don't share our work. We just write. Free tea, coffee, cake and soup. Only £16 for the day.
2019 dates: 10 February | 10 March | 14 April | 12 May | 9 June